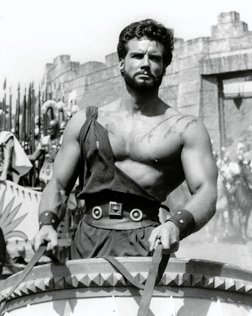 If I asked you to name a former Mr. Universe bodybuilder who turned to acting and became one of the world's biggest moviestars, what would you say? Arnold? Sure. But Arnold was by no means the first.
In the 50s and 60s, before Italian cinema got hooked on Spagetti Westerns, peplum films were the big thing, or sword and sandals. Italy in the late fifties and early sixties turned out one blockbuster after another about the great heroes of antiquity. The stories were often just vehicles for muscle men to show off their strength, dazzling their audience with  with spectacular action scenes.
The superstar of these movies was Steve Reeves (watch newsreel), a man born in the midwest of the United States. After a failed career in Hollywood, he took a chance on a small budget Italian film called Hercules (1958). The director, whose 13 year-old daughter begged him to cast Reeves as Hercules, offered him the part after seeing a photograph of him as Mr Universe. The film was shot in three months during the summer and autumn of 1957.  A smash hit, it paved the way for hundreds of similar themed movies. Steve Reeves only starred in a few of them, but he became the best paid actor in Europe, and there was plenty of competion at the time.
"There's a scene in HERCULES where I'm in chains — they looked like steel, but they were actually made of wood — and I had to swing these chains at my supposed enemies who were advancing towards me. Well, I didn't want to really strike someone so I kind of held back with my motions. The director yelled, 'Swing those chains! Swing them hard!' I said, 'I don't want to hurt someone.' And the director yelled back, 'If they don't get hurt, they don't get paid!"- Steve Reeves
In the 50s the presence of a white handsome body builder in Italian cinema became the ultimate symbol of American cultural influence. Italy was recovering from WWII, and was a new battleground in the cold war. Rome was even known as "Hollywood on the Tiber" because of all the big budget American productions that were filmed there. At the time Italian cast names in homegrown commercial cinema  were often anglisized. The films were dubbed, and Reeves must have been one of very few actors in a talking movie to rise to the top without actually revealing his own voice on screen. Perhaps it was for the best, Reeves did not speak Italian.
Steve Reeves never thought of himself as a great actor, but felt he was "adequate for the parts he played".  Without him there might not have been a famous Arnold Schwarzenegger. After all, Arnold's first starring role came in the movie Hercules in New York (1970). Reeves injured his shoulder while filming The Last Days of Pompeii (1959), and the stress of the business would eventually become too much for him. He retired from films only 45 years old and spent the rest of his life working on other things. He died in 2000.
Here are some podcasts on Reeves
With the influx big budget American blockbusters, Europe has neglected its own b-movie tradition. Whether it is Hammer horror in Britain, peplum or Spagetti Westerns in Italy, the comedies of Louis de Funes or the action of Belmondo, Europe never seems to celebrate its commercial films. In stead, we like to be associated with serious drama. Many of the dubbed peplum films have now faded from memory and fallen into public domain. Some are available from archive.org and similar sites:
Watch Hercules (1958) on Youtube